Airbus has unveiled its vision of the in-flight experience of the future during the last Paris Air Show.
The European aircraft manufacturer has offered a sneak peek at its "Concept Cabin," which aims to both enhance the flying experience for air passengers and improve the environment.
Airbus says the new cabin will be operational by 2050 and offer different "zones," such as the "Vitalising Zone" — focused on relaxation and complete with aromatherapy and acupressure treatments — and the "Interaction Zone," which provides virtual pop-up projections that can create whatever scene a passenger wants.
A transparent cabin skin will even allow for panoramic views of the sky during flight.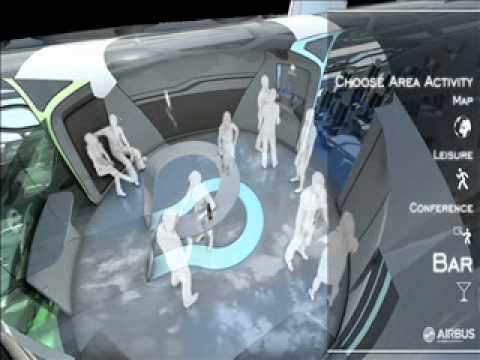 The cabin also won't divide up passengers based on how much money they're willing to spend on their flight, but rather on how they want to spend their flight. And all travelers will receive the same seat, regardless of cabin class, which will respond to a passenger's needs by morphing to change to a passenger's body shape.
Airbus also showed it continues to focus on caring for the environment.
via Airbus shows its vision of future flight – Business – US business – Aviation – msnbc.com.