Glass harmonica wizard Robert Tiso of Bologna brings music to life in a rather unconventional and enchanting way.
Using only the tips of his fingers and moving expertly from one wine glass to another to produce different sounds, Tiso produces a lyrical and hybrid rendition of a classical repertoire.
Among his many performances we find Beethoven's N5 Symphony, Tchaickovsky's Swan Lake, and Brahms' N5 Hungarian Dance.
Tiso transforms a few glass cups and some water into a magical musical instrument.
He dazzles spectators with a flawless technique; fingers moving with the dexterity of a pianist caressing and fusing with his instrument, Tiso produces music that surprises, unsettles, and remind that creativity and innovation are endless.
Robert Tiso, Toccata in D minor – Michael Lawrence Films Bach Project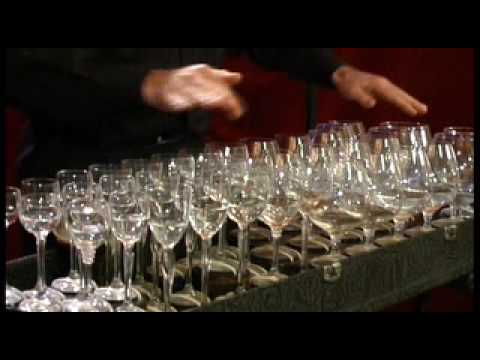 Symphony n°5-Beethoven